The Groom doesn't have too many things to worry about (compared to the bride) when it comes to the wedding planning. He pretty much has to get to the church on time, be sober for the ceremony and make sure he and the groomsmen are dressed and ready. Here's hoping some of the deals we've found will help with that!
This is a great resource for classic suits, formalwear and accessories and they are really good about putting things on sale and offering discounts.
Be a part of this special Brooks Brothers benefit for the Golden Fleece Foundation in support of The Make-A-Wish Foundation.   On Thursday and Friday only, enjoy 25% savings on your purchase when you use either the Brooks Brothers MasterCard or The Brooks Card.  Or you can enjoy 15% off savings on your purchase using any other form of payment.
This Bib-Front Spread Collar Formal Tuxedo Shirt looks very modern and sleek.   Not sure which method of payment you would be using for it but even with the 15% off, you could snag it for $114.75 (orig. $135).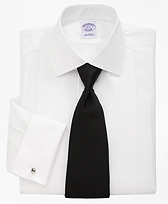 For a more casual outdoor wedding, you have to check out this white Two-Button Linen Suit for $508.30 (orig. $598).  It is so clean and fresh looking that it would be perfect to wear again and again possibly to other people's weddings for years to come!  Definitely worth the investment!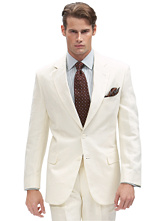 There are so many small details that go into planning a wedding and the same also goes for the groom's attire.  There are many options to consider – bow tie,  cufflinks,  vest,  ascot, oh wait… that might be a bit too much.  Anyway, we found a few things to top off any groom's outfit.
Found some great cufflinks here and they were ALL on sale!   Take an extra 40% off all sale apparel until 4.27.  The discount will be taken at checkout and this offer excludes final clearance items.
Back to the cufflinks…  The Dior Homme Silver Pique cufflinks are on sale for $159 (orig. $295) and with the extra 40% off, you can pick them up for $95.40.  Now that's a huge savings!
Usually I don't prefer bow ties but this J Crew Bow Tie is so different and fun for a wedding and it's only $30 (orig. $37).   It also comes in orange/green, pink/yellow, blue/yellow, orange/yellow and orange/blue.  If you want something a little more classic, go see their bow ties by Celine (also for $30).  They come in silvers, greys, and golds.
One thing the Groom does need to take care of is getting gifts for his groomsmen.  The standards are usually cufflinks, money clips or a gift that is related to drinking or golf.  While these are wonderful gifts, we tried to think of a few others that might be a welcome change.
A great gift idea is to give a basket of men's skin products or toiletries.  At Zirh, there are quite a few shopping incentives for this great men's skincare and grooming brand.   They offer Free Shipping with all $100+ orders and ALL orders come with Free Fragrance and Skincare samples!LOVE that!
Check out their SPA Kit, an $103 value now $74 from ZIRH men's skin care.
This is a great place for gift ideas.  Not only can you find the standard gifts mentioned above, but they have a genius gift for guys!  It is the Monogrammed Branders for steaks.  Now that's a gift they will remember and you can get one starting at $62.95 (orig. $69.95) but possibly for less depending on the dollar amount of your purchase.
Save 10% on any purchase, 15% on $80 or more, and 20% on $125 or more.